Golden Globe winning actors.
D

aniel-Day Lewis
unsurprisingly won the 2013 Golden globe for the best actor thanks to his masterful portrayal of the well known figure in his role of "Lincoln".
Here is the top 10 list of Actors who have previously won this prestigious award over the past ten years.
Well-known actor Jack Nicholson won the award for Best Actor back in 200

3

, for his role as Warren Schmidt in the American comedy-drama film 'About Schmidt' which was loosely based on the novel by Louis Begley and directed by Alexander Payne.
Back in 200

4

Sean Penn won the award for Best Actor, following his role as Jimmy Markum in the American Drama film 'Mystic River'. This film was directed, co-produced and scored by the legendary Clint Eastwood.
2005 - Leonardo Dicaprio.
American biographical Drama film 'The Aviator' led heart-throb Leonardo Dicaprio to Golden Globe victory when he won the award in 200

5

for playing the character of Howard Hughes. This film was directed by the prolific Martin Scorsese.
200

6

- Philip Seymour Hoffma

n.
Hoffman is another who was presented the valued award in 200

6

, when he was recognized for portraying the role of Truman Capote in the biographical film about Truman Capote, a film which, directed by Bennett Miller was based on Gerald Clarke's biography 'Capote'.
African-American actor, producer, and director Forest was awarded the globe for best actor in 200

7

. He earned this award thanks to his critically acclaimed depiction of character of Idi Amin, in the British Drama "The last king of Scotland", directed by Kevin MacDonald.
Well loved and respected Lewis features once again in this list. He received the globe for best actor in 200

8

when his characterization of Daniel Plainview in the American Drama film "There will be blood" ensured him the honour of this award once again. This film was directed by Paul Thomas Anderson.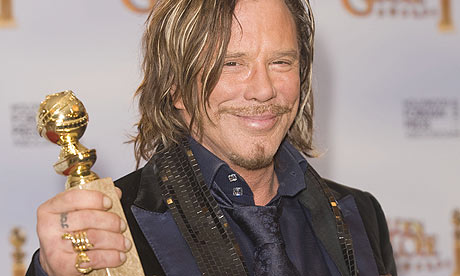 'Tough guy' Mickey Rourke was a winner of the Best actor globe in 200

9

. He received this award due to his work in the film "The Wrestler", directed by Darren Aronofsky. He was cast as the leading character of Robin Ramzinski.
"Bad blake" , the leading role in the American drama film "Crazy heart" won Jeff Bridges the award in 20

10

. Crazy heart, directed by Scott Cooper received great critical acclaim, with 91% of critics rating the film as good.
British historical drama film "The Kings Speech" secured Firth the best actor globe in 201

1

. Directed by Tom Hooper the film was well received andiIn the UK and Ireland, the film was the highest earning film on its opening weekend.
Chiselled ladies man George Clooney won the award in 201

2

for his role as Matt King in the American Drama "The Descendants". This film was directed by Alexander Payne, and is based on a novel by Kaui Hart Hemmings of the same name.